10 Ingenious Christmas Lights Ideas for Indoor Decoration
Decorated Christmas fairy Lights are not only for the outside of your home, but inside too! Sparkling lights are a symbol of the holiday season and make a stunning impact to any indoor holiday lighting design. This post is going to share with you 10 ingenious Christmas lighting designs for your indoor decoration.
1. Deck out a dresser mirror
Even the most overlooked place needs to be decorated. Adding a string of glittering lights can bring a little festive touch to your dresser area.
2. Place string lights on the piano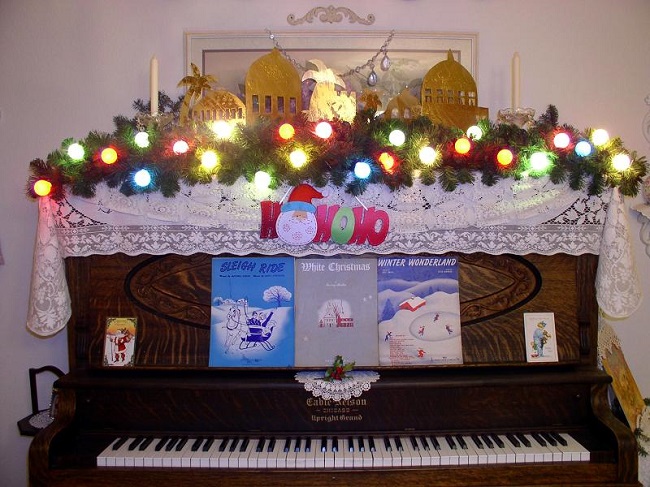 If you got a piano in your house, you give it a little decoration with colorful ball lights like the one above, which really make the instrument sings, even without truly playing it.
3. Create a magical door curtain
| | |
| --- | --- |
| | Hang strings of lights from the ceiling to make a door curtain for a magically fascinating impact. A snowflake string lights is perfect to for a seasonal touch. Also you can use any shaped lights that please to you. |
4. Hang starry lights around a reindeer's antler
| | |
| --- | --- |
| | Make a holiday focal point in your room by hanging starry lights on a deer horn. It'll impress anyone who comes around your house. |
| | |
| --- | --- |
| | Don't forget to decorate your staircase. Use ivy leaves adorned with mini lights is a classic way to go to bring holiday spirit to life. |
6. Outline a Christmas tree on the door
| | |
| --- | --- |
| | This light decoration idea is perfect for small space. Create the shape of Christmas tree by using the string light on the wall. But select some shining ornaments like these stunning red, silver and black balls to add accent effects. |
7. Put electrical candles on table as a centerpiece
| | |
| --- | --- |
| | Use electrical candle lights as a centerpiece on the table to exude a holiday vibe around the space without hassle of wax candles. |
8. Make a garland out of string lights
| | |
| --- | --- |
| | Use string lights to diy a sparkle garland can be practical and unique. Better choose a coloured string lights for a better visual effect. |
9. Bring natural scene to the house
| | |
| --- | --- |
| | Bring in nature by decorating the house with greenery garlands and vines. And do not forget to tie the light strings. |
10. Mix string lights and Christmas ornaments in clear jars
| | |
| --- | --- |
| | You don't have to get too complicated when decorating your indoor. Just use those stuff that are lying around like clear glass jars. Pile up some pine cones, pine needles and Christmas balls on those glasses. Make them more stunning by mixing string lights. |