Chandeliers: Various Style for Garden Pavilion
A chandelier is a branched ornamental light fixture designed to be mounted on ceilings or walls. Chandeliers are often ornate, and normally use incandescent light bulbs, though some modern designs also use fluorescent lamps and recently LEDs. Chandeliers are distinct from pendant lights, as it usually consist of multiple lamps and hangs in a branched frame, whereas pendant lights hangs from a single cord and only contain one or two lamps without any decorative components. Due to their size, they are often installed in hallways, living rooms, staircases, lounges, and dining rooms. However, miniature chandeliers also exist, allowing them to be installed in smaller spaces such as bedrooms or small living spaces. However, chandeliers are not only installed in the indoor, they are also mounted outside space like the garden pavilion. The garden pavilion usually is a small room which is a entertainment place and has the fundamental furniture and the surroundings are circled with flowers and trees. At there, the chandeliers as the decorative lights, look so bright and beautiful, which give you a relaxing and pleasant feeling.




The rustic candle-like chandeliers are commonly installed in the pavilion. The main material is the metal and the candle-like light sources are made of LED or incandescent bulb. This style could illuminate the smaller spaces and provide a delightful decoration.


Similar light you could select


The crystal chandeliers are popular for wedding, party, or other holiday situations. Because the crystal chandeliers are made of many crystal beads or drops. The lights are ornate and glittering, which catch your attention and embellish the surroundings.




This chandelier is installed over the dinning table outside and hung in the brandreth where is circled with flowers and other plants. It would give you an attractive decoration and comfortable sightseeing. Similar product you would like




The fabric shade chandeliers are also familiar with you. This style, just as its name implies, is made of fabric shade and metal body. They could send out a gentle beam and light up the whole space.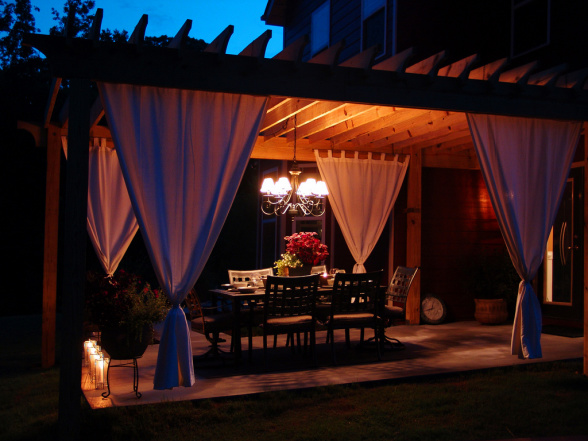 Related posts
Light Your Garden Villa Ceiling for Modernization
How To Light Up Your Home Walls in the Garden
Garden Pathway Needs These Safety Landscape Lighting Types
Related products you would like