Specifications
Category: Chandelier
Style: Contemporary Style
Width: Above 36 Inches
Shape: Globe
Finish: Black Finish
Material: Metal, Glass
Number of Bulbs: 15 Lights
Special Feature: Designer Lights

Description:
Statement-Making Design
With branching arm design, the Modo Chandelier is sure to make a bold statement in a living area in which you can hang it as an abstract work of art. This chandelier creates dispersed light with 15 glass globes in a different direction that greatly broaden your illumination area.
Contemporary Style
This unique chandelier complements a range of interior spaces in a contemporary style. Ideal for your living room, bedroom, foyer, or dining room.
Details:
• Distinguish design with branching arm.
• Light up an entire room with 15 glass globes.
• Simple to install and dimmable.
• Complement the space of contemporary style.
Dimensions:
| | |
| --- | --- |
| Fixture Width | 50.39in (128cm) |
| Canopy Width | 4.72in (12cm) |
| Pole Length | 7.87in (20cm)+11.81in (30cm)x2 |
| Cable Adjustable | Yes |
Specifications:
| | |
| --- | --- |
| Primary Material | Metal, Glass |
| Finish | Black Finish |
| Shade Included | Yes |
| Shade Material | Glass |
| Bulb Base | G9 (Line voltage 110/220V) |
| Bulb Included | No |
| Number of Bulb | 15 |
| Wattage Per Bulb | 60W |
| Dimmable | Yes |
| Voltage | 120/220V |
| Dry/Damp/Wet Location | Dry |
| Sloped Ceiling | Not Compatible |
| Power Source | Hardwired |
| Assembly Required | Yes |
| Certification | UL Listed/CE Listed |
Modern Style Branching Modo Chandelier
The modern sputnik chandelier is never out of date for its classic design.Whether you are looking for a romantic or a modern fixture, An eye-catching branching modo chandelier would be a perfect lighting choice for you. With its skriking sputnik design and functional feature, this contemporary chandelier will amazingly brighten the seating and dining area yet create a focal point too!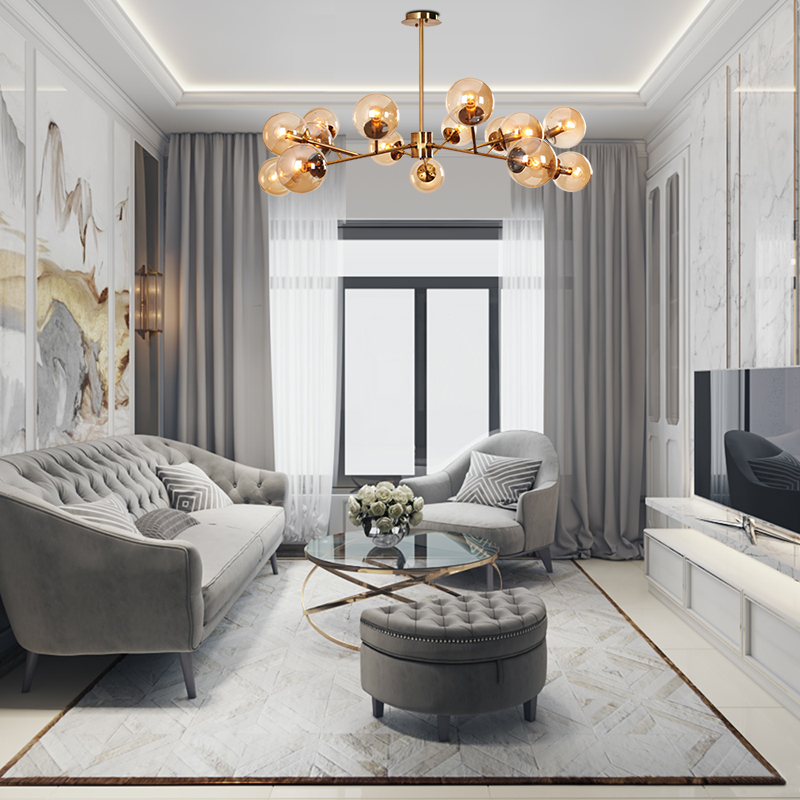 The living room is not doubted the central hub of the home, so a stunning branching modo chandelier is needed to make a great statement. Featuring multiple arms extended out from the central base, this contemporary chandelier is vividly inspired by its branching design.Refining the living room without overpowering the rest of the décor, this fixture will fit any modern mid-century style living area.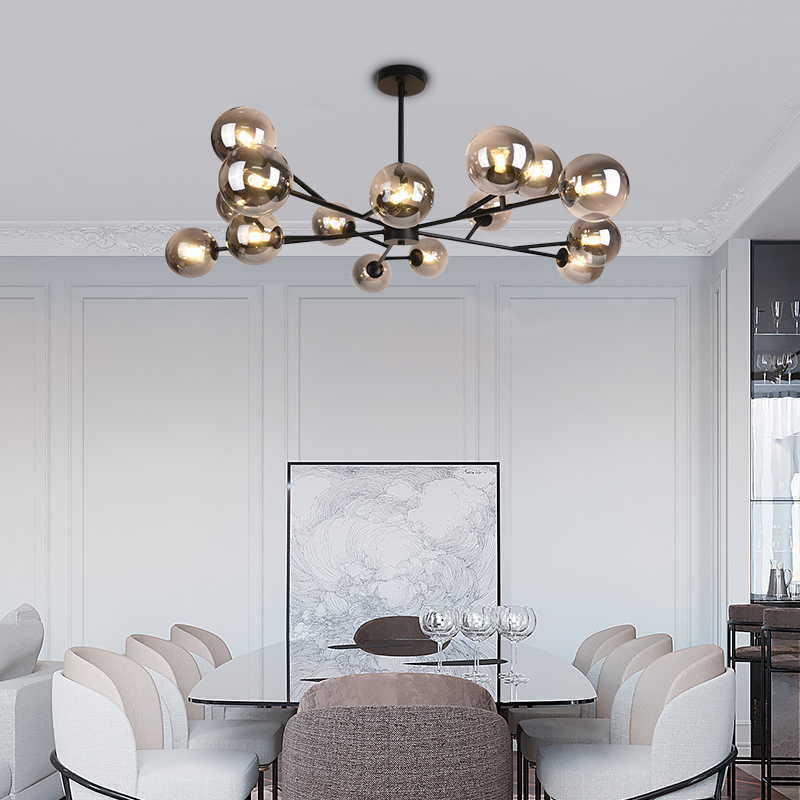 The dining room is where you enjoy the mealtime at home with friends and family. For most people, it is a unique place for making memories. Compatible with E26 dimmable light bulbs(not included), this modern sputnik chandelier will diffuse a romantic and comfortable glow to the dining table. More surprisingly, a dimmer switch could be installed to help switch up the atmosphere and set the mood!
Return Policy

At Yiilighting, returns are easy! We strive to offer the best shopping experience, including fast and hassle-free returns. Please Contact Customer Service to process your return.

You can return most items for a refund or store credit within 30 days of delivery. Return items must be in their original condition and packaging to be accepted. Please keep in mind that return shipping is free of cost (in the situation that you have purchase Insurance). If you did not purchase the Insurance, return shipping will be deducted from the refund amount. We apologize for your less than perfect experience. After you have smitten a return request, the first shipping cost and the insurance(in the situation that you have purchase Insurance) will be both detected from your refund.

How to start a return:
1) Start a return request by emailing service@yiilighting.com with the title: Return #xxxx (order ID)
2) We will respond to the return email in 2 business days.
3) Refund will be returned to the original bank account within 3 business days.

Please be sure to start this return request within 30 days of the delivery date.
There are a few items that can't be returned:
• Clearance items
• Gift cards
• Personalized items
• Items you have already assembled
• Items have been received over 30 days of delivery

What you can enjoy if you purchase the Insurance:





Free return shipping cost within 30 days of delivery, you will receive a prepaid shipping label for the return of items.



Note: If you have not purchased the Insurance, you will have to be responsible for the return shipping cost.

Damaged or Defective Items
Return shipping for damaged or defective items is free with 7 days of delivery — just pick your preferred resolution:
• Replacement parts (e.g. a broken glass shade)
• A replacement item
• A refund

How to get started:
1) Choose your resolution, to return for a refund or get a replacement.
2) Send photos/video as proof of damaged/defective item to service@yiilighting.com
3) We will respond to the return email in 2 business days.
4) Refund or replacement will be released within 5 business days.

We'll provide return instructions for the damaged or defective item. Be sure to complete this process within 30 days of the delivery date.

PLEASE NOTE: check the package carefully before signing for your item(s). If a package is delivered in damaged/damp/deformed condition, please request a "Damage Report/Proof of Damage" documentation from your delivery carrier. This will be one of the very important materials for damage return and refund.


Cancellation Policy
For all products excluding made-to-order items, orders may be cancelled for a full refund at any time until the order is shipped.
-Orders cancelled within 24 hours of payment confirmation are eligible for a full refund.
-Orders that have already been shipped can not be cancelled.

For Made-To-Order products:
-Orders cancelled within 24 hours of payment confirmation are eligible for a full refund.
-Orders cancelled after production begins may be cancelled, but you will be responsible for 50% of the product price.
-Made-To-Order products that have already been shipped can not be cancelled.


Complaints
If you are not satisfied with the way in which we have handled the return or replacement of any item, please contact our customer service representatives at service@yiilighting.com. We welcome any feedback you have regarding our products and service.

Please Note:
We reserve the right not to accept the returns or to process the replacement or the refund request without prior approval from our Customer Service.

Any purchase on yiilighting.com indicates that you have read, understood and agreed with our Return Policy stated above. Find all the necessary information and terms, please refer to our Terms of Use.
Payment
Our order don't add taxes, VAT, or other hidden charges. You pay us what you see on the order checkout page, i.e. goods subtotal + shipping cost + Insurance (optional).

For the moment, we accept Paypal as the only payment method, or credit card through Paypal. You can use Visa, MasterCard, Discover, American Express, or JCB to make payments safely and securely.
1. With PayPal, you can send payments quickly and securely online.
2. Through PayPal, you can pay with credit card, debit card, or bank account balance.
3. Once your order is submitted, you will be redirected to PayPal's site where you could make the payment.
4. Using Buy Now, Pay Later from PayPal Pay Later. US buyers can use pay in 4 to pay for purchases of $30 to $600 over six weeks, interest-free payments. The bill of pay in 4 will show in your PayPal wallet for you to manage your payments.
Shipping
Ship From USA


Ships via:
FedEx Ground or UPS Ground
Delivery Time:
3-7 days of dispatch
Dispatch Time:
1-2 days
FedEx, UPS or National postal administrations of the world's states will ship your item. You won't need to sign for the package if shipped by FedEx, although occasionally the package won't be left due to weather conditions or concern for the package's safety. If you know you want the package left at your doorstep, feel free to leave a note on your door that reads "No Signature Required", along with your name and the tracking number.
You can even change the shipping address of an item after your order has been placed, by contacting service@yiilighting.com (Please note that unfortunately, we will be unable to change the address for any items that have already shipped out of the warehouse.)
Special Area Shipping (Hawaii, Alaska & Puerto Rico)
Yiilighting offers discounted UPS or FedEx standard shipping for customers in Hawaii, Alaska & Puerto Rico.
Please note that after you place your order we will send you a shipping quote via email within three business days. Once you have approved the quote, the item(s) on your order will be processed. Please contact Customer Service:service@yiilighting.com if you have any questions about this.
International Shipping (Outside the US)
• Any additional damage/defective product must be submitted to us with pictures or videos within 48 hours after delivery at an international location.
• We do not accept any other personal reasons for returning the product, and you must keep the product and packaging at that location for inspection.
• we will send you a shipping quote via email within three business days. Once you have approved the quote, the item(s) on your order will be processed.
• Please consider electrical compatibility when purchasing and ordering lighting equipment for international destinations.
For special requirements, please contact Customer Service:service@yiilighting.com.