Few Lighting Ideas to Furnish Your Kitchen the Right Way
Lighting is essential to our kitchen furnishing. They are not only for functional use but also aesthetic value. When the lights are used in the right manner, they may improve the look of our kitchens. However, how to figure out a perfect lighting installing scheme can be tough. This article is going to give you some general tips and ideas which may helps you with your selection of lighting for your kitchen design.
Consider Style First
As always, style matters much in room design. There should always be a characteristic harmony when we put together the overall design of a kitchen. Before you select a lighting fixture of a certain style to fit in well with the existing features of your kitchen arrangements, you should have an all-round sense of every fitment in the kitchen including the carbinet, kitchen island, tables and backspash and so on, then come up with a style and type of lighting to match the entire theme of your kitchen.
Choose Color Properly
Colors play a important role in decorating rooms. The selection of different color finishes of lighting fixtures installed in kitchen can be practical. Choose the right color of lighting will make your kitchen brighter, larger or even more glamorous. Bold colors, for example the lively red, makes huge impact and could immediately draw the eye, while cool tone of colours show some elegant and understated sensibility
.
Pick Size Carefully
The size of lighting fixtures could be a real issue in kitchen as well. When your kitchen is small, oversize lights are usually not good options. But if you have a kitchen with huge space, you could to pick a large chandelier to hang on the center of your kitchen, which may even enhance the area.
Mind the Height


When we install lights in our kitchen, the height must be deliberately concerned with. A pendant light for example, if not be placed high enough over a dining table, it will blind our eye with its glow. Therefore, in order to have a comfortable level of brightness without glare, you should hang the fixture at an appropriate height.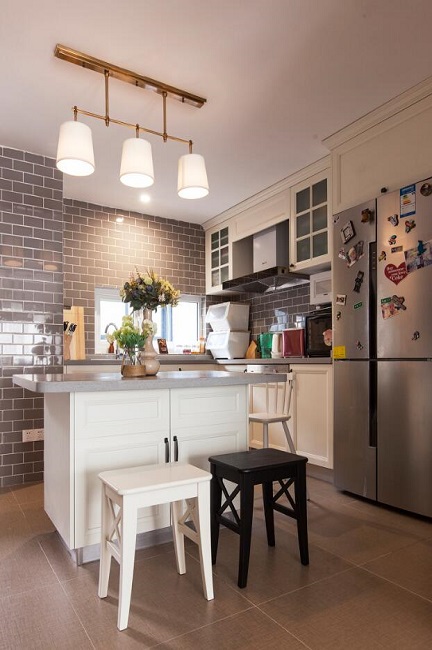 Hung in Pairs or Clustered in a Group
The use of pendant lights of more than two is a great solution to get rid of monotonousness in kitchen, and can always create a visual anchor among the space. Like the fixtures shown in the picture below, hanging same pendant lights in triple to comply the rule of "three" shows great sense of coherence, or cluster similar fixtures as a group also build a balance feeling of the kitchen.