Stunning Ideas for Christmas Lights Decorations in the Garden
Christmas is an annual festival commemorating the birth of Jesus Christ, observed most commonly on December 25 as a religious and cultural celebration among billions of people around the world. A feast central to the Christian liturgical year, it is preceded by the season of Advent or the Nativity Fast and initiates the season of Christmastide, which historically in the West lasts twelve days and culminates on Twelfth Night; in some traditions, Christmastide includes an Octave. Christmas Day is a public holiday in many of the world's nations, is celebrated religiously by a majority of Christians, as well as culturally by many non-Christians, and forms an integral part of the holiday season. So Christmas decorations become a careful consideration of the problem. These Christmas decorating ideas add interest to the porch decorations, wrap trees with lights, and yard decorations ideas to welcome all in good cheer. Believing the decorating ideas will help you illuminate your home with festive style.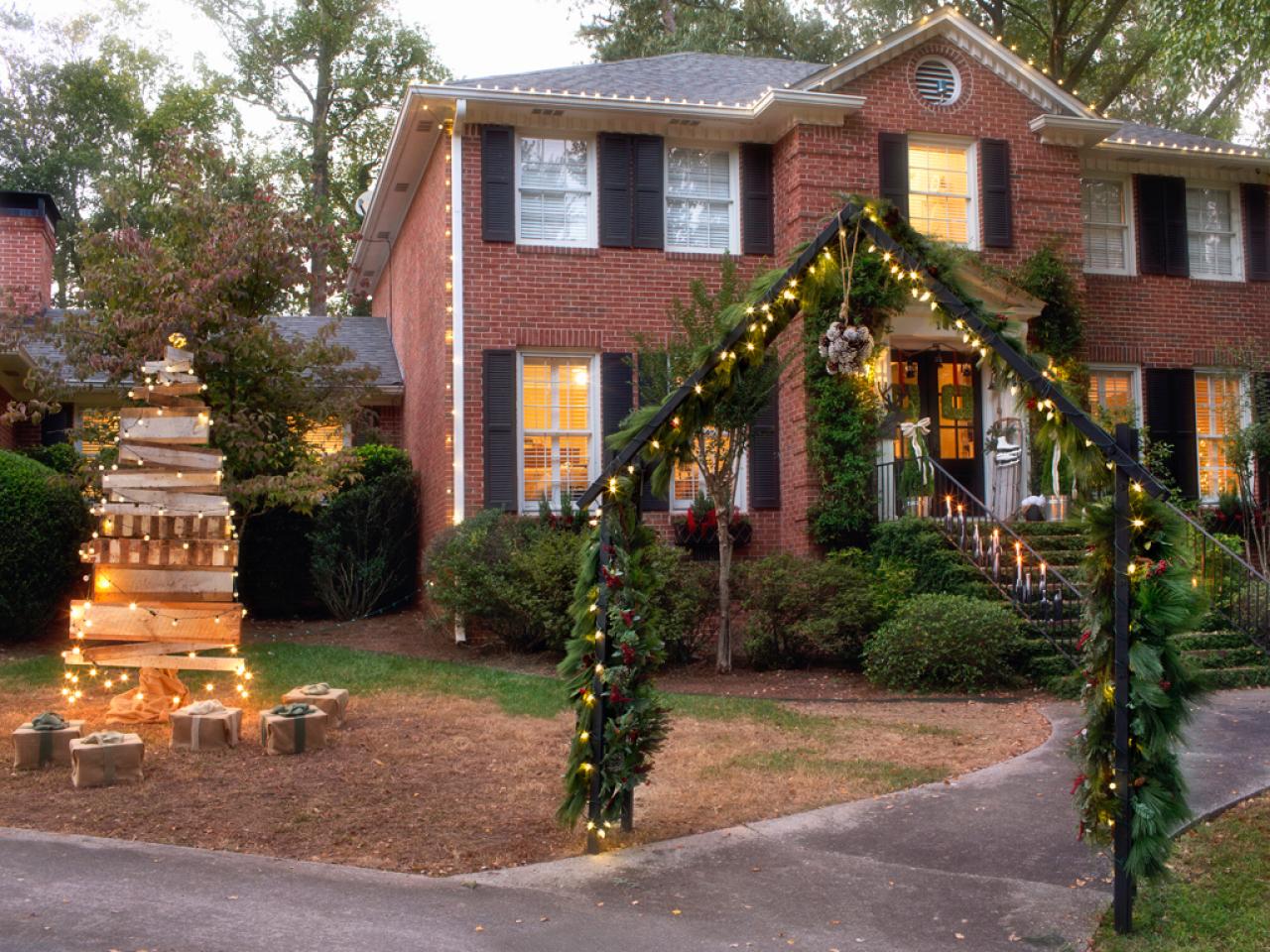 1. Christmas Porch Decorations
Decorating On/Around the Front door
The front door of your home is the focal point of your entry and often the first place that is met by the eyes. Keeping this in mind when planning your Christmas porch decorations, it is helpful to visualize your design from the center, outward beginning with the door.
The front door offers a wealth of opportunity for inspiring holiday cheer every time you arrive home and your neighbors drive by. You can decorate directly on your front door, flank each side or both!



Garnish With Garland



Try outlining the trim of your door with garland to complete your door design! The secret to creating perfectly placed garland around your door is to skip the hammer and nails or hooks and use a garland hanger instead. Also, garland lights
offer an eye catching alternative for outlining your door.

More information for the white light
Gorgeous Greenery
Holiday greenery is a Christmas classic and can carry any theme well. If you favor the timeless look of greenery but want to add a bit of your own vibrant personality to your front space, incorporating themed accents, such as ribbon, ornaments, flowers or other decorations, can turn basic holiday greenery into a rustic, modern, vintage or one of a kind design.

Similar product of the pendant light
Ceiling Decorations
The ceiling in front of the door, an unique bright and neat pendant light would give you a warm and pleasant atmosphere. Also, a string light, glittering and dazzling, which has a festive atmosphere.


Similar light for the string light

Similar product of the wall light
Festive Flanking
To continue working outward across your porch, flanking each side of the door with decorative accents can add depth to your door design and close the gap if your garland doesn't quite reach the floor. Flanking works especially well with doors that feature sidelites, or window panels to the left and right. Choose decorative accents that stand even in height with the center of your door to create a polished, symmetrical effect.
Christmas Tree with String Lights Similar light for snow light


Potted Topiary Wrapped with Coordinating Lights.
Decorating Porch Columns with A Tip Bulb String Light
Porch Railings
When the door is done, it's time to head to the porch stair
railings. Continue your Christmas porch decorations by wrapping mini string lights around railings or adding a delicate garland.
Mini String Lights
They are one of the most popular choices for porch lighting due to their incredible versatility. There are two alternatives you could select.
Green Wire Mini
Light
is a multicolor light and the string length is about
137.8in, which formed with 35 LEDs.
Rubber String Light is cool white light and the mini lights have 138 LEDs. The total length is about 275.59in.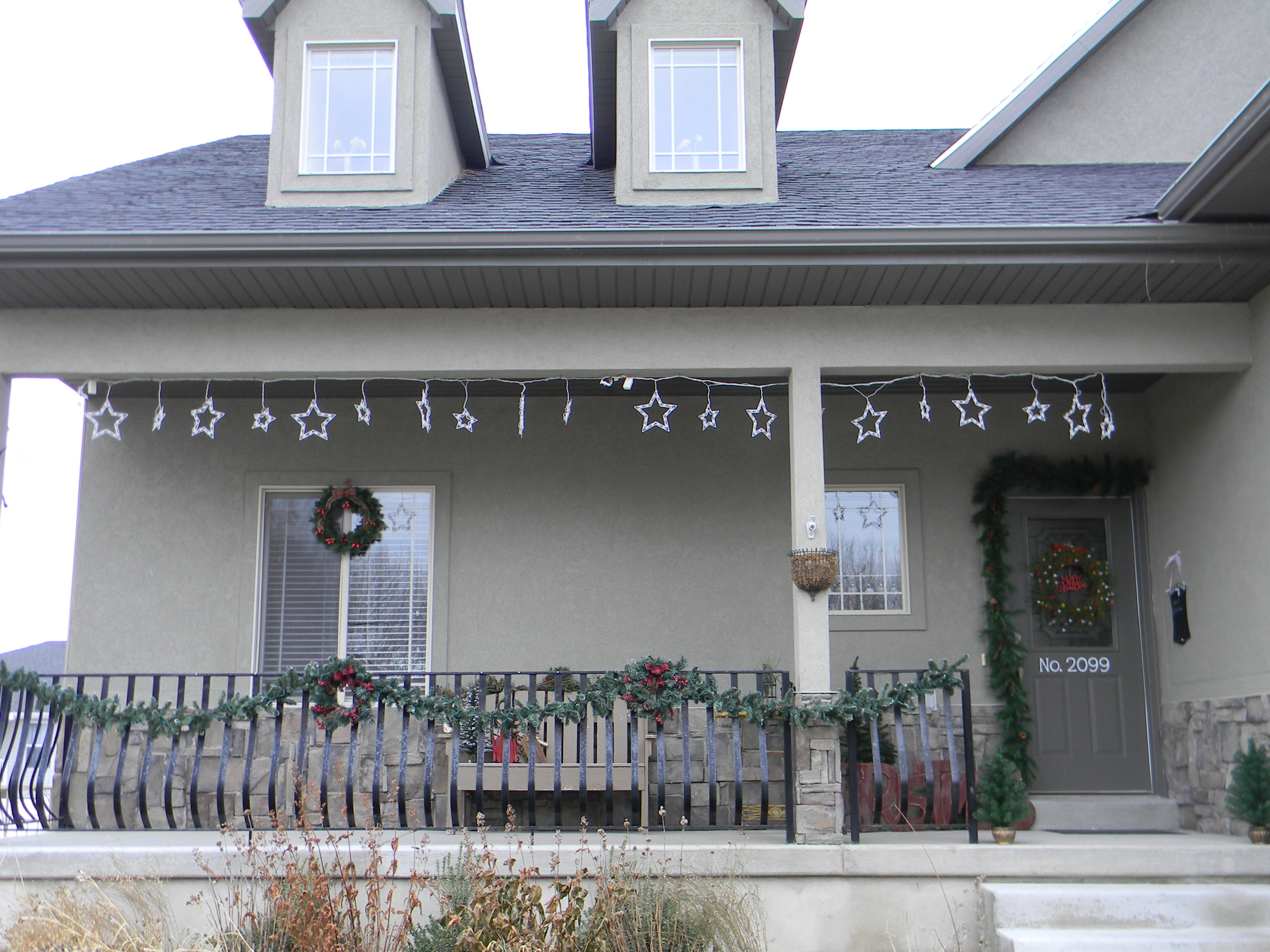 Lit or Unlit Garland
One popular idea for unlit or lit garland swags is to place a festive bow at the point where the garland is secured to the railing. Many bows feature sturdy wiring to hold them in place, which can be used to secure your garland to the railing as well. If you want the lit garland, the mini string lights could meet your needs.

More information about the waterdrop light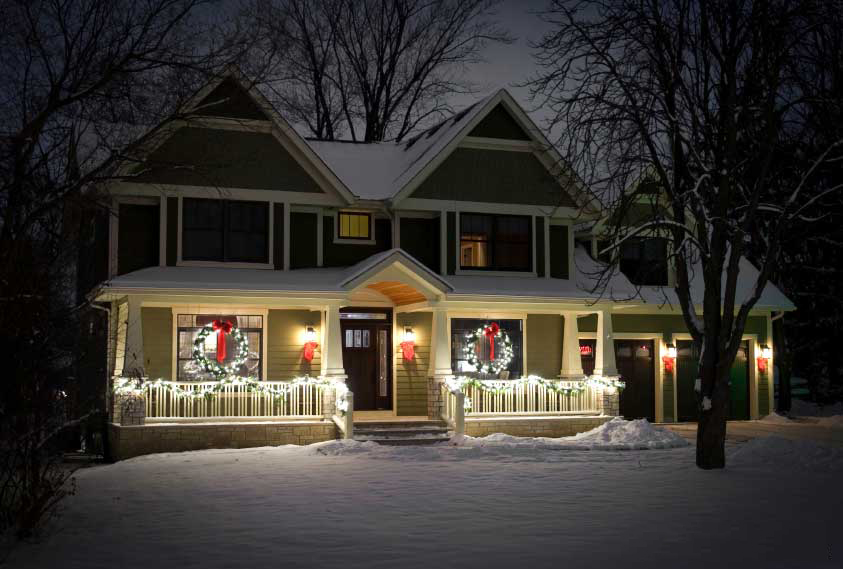 2. Wrapping Trees with Christmas Lights
Hang Snowflakes

.
Trade traditional string lights for a set with glittering snowflakes. Hang them where they have room to stand out, such as just below the eaves or along large branches of a tree in the front yard. The snowflake could be a window curtain decoration, it is also as a hanging light along large branches in the tree.

More information for the snowflake light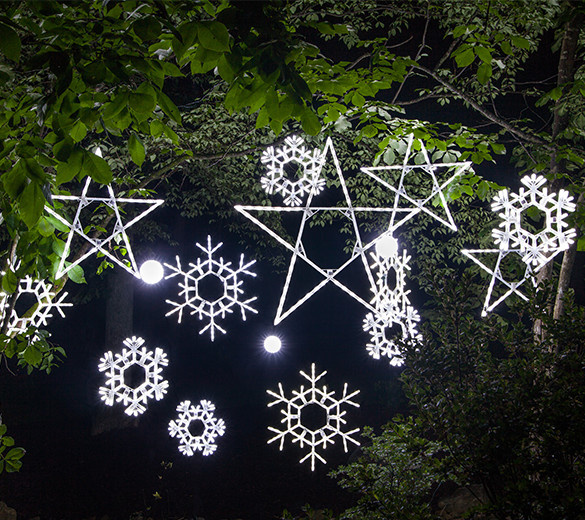 W
rap Shrubs
When snowing in the winter, the shrubs become a beautiful landscape. Christmas evening, if you wrap a multicolor and bright string light around a shrub. It would be a dazzling and eye-catching landscape scenery.


More information about the light
Showcase Trees
Gardens this time of year are primarily quiet. Highlight the branch structure of deciduous trees by wrapping the trunk and individual branches with white lights. Choose a single tree as a specimen, or illuminate a cluster of trees for greater impact. More info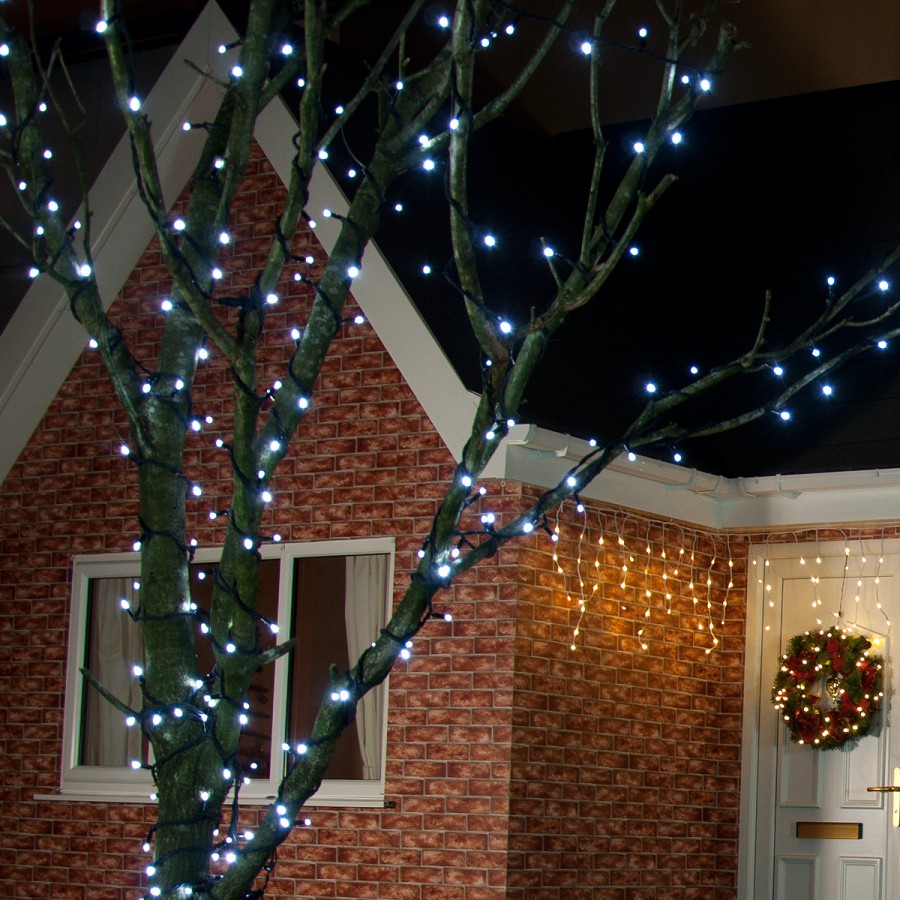 3. Yard Christmas Decorations
Christmas yard decorations welcome others to your home by means of drawing the eye from the road to your doorstep. There are many Christmas yard decoration ideas to make this area a bright beautiful space. Decorate with lights, garland, and bows to really attract attention from friends and neighbors this holiday season.
Decorating Backyard Party
Many of you would like to have a party or have a dinner with your friends or family members in the backyard space. Proper lightings would give you a warm and comfortable atmosphere. You could select these string lights below.
Clear Bulb Light
S16 B
lack W
ire
Light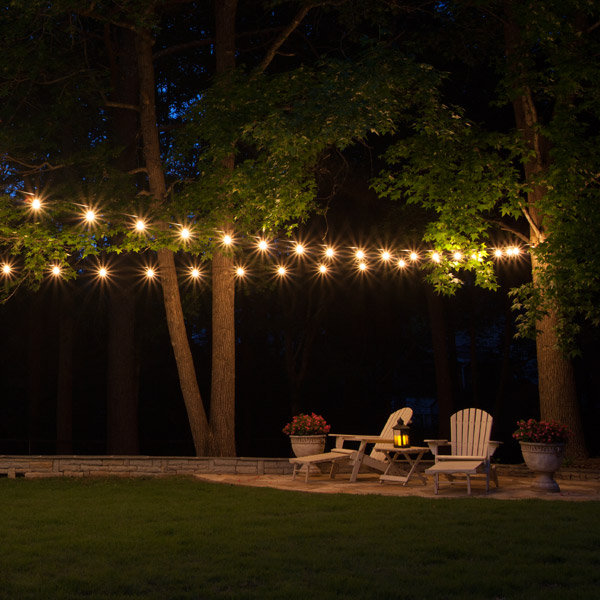 Mini String Light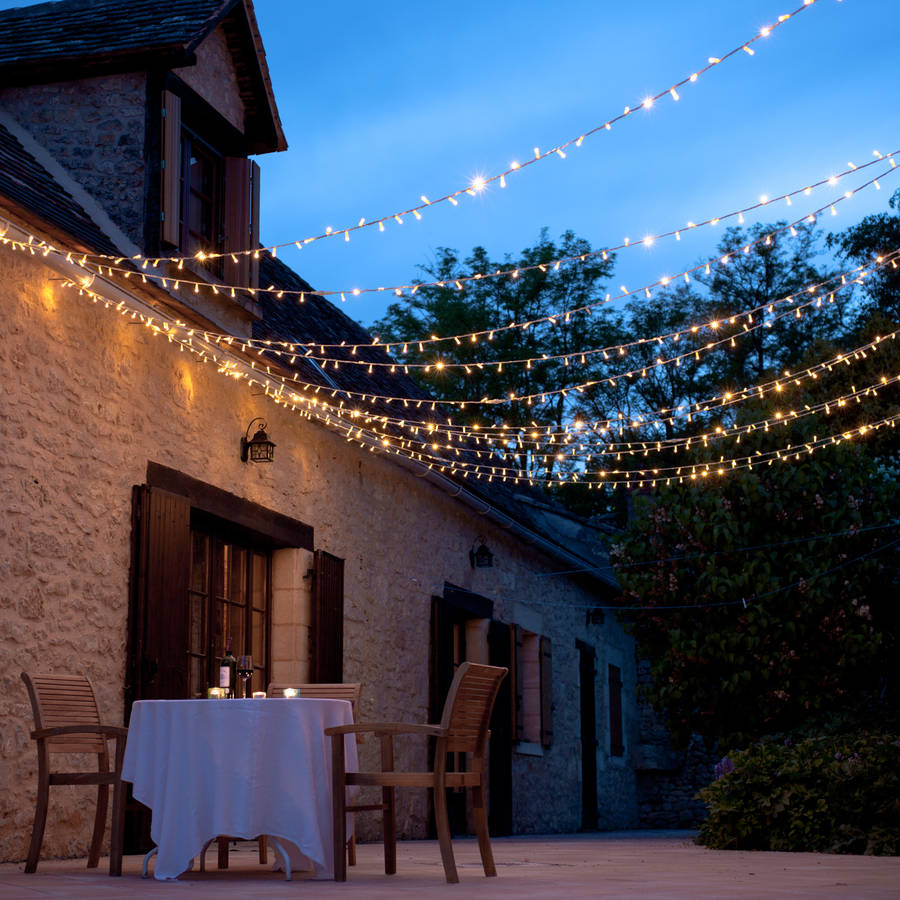 Pathway Yard Lights
When your friends invited to your home, the pathway light in the yard is important and necessary for their security and illumination.
G40 Globe Clear Bulb Light is one of the most popular string light in the yard illumination. You could consider it as your pathway light.
Smaller Size Bulb Light also has a bright luminosity.