The Cheapest Pendants You Can Find to Light up Your Kitchen Island
If you have decided to hang pendant lights over your kitchen island, please check these best price pendant lights for kitchen island lighting. I bet you can never find island pendants in such a low price in anywhere else!
1. 11.02"W Clear Glass Shade Single Light Pendant

($35)

·

More Info
Suede quartz Silestone graces the countertops with a soft matte hint of color that contrasts nicely with the presence of white painted cabinetry finished smartly with the brightness of a milky white farm sink. Old melds nicely with new, as antique bronze accents are sprinkled throughout hardware and fixtures, and work together unassumingly with the sleekness of stainless steel appliances.
2. Single Vintage Style 1 Light Pendant

($17.3)

·

More Info
3. 1 Light Chrome Finished Bright Pendant Light

($87.1)

·

More Info

The most basic rule that isn' t really a rule is something called "The Rule of Three." Essentially, The Rule of Three states that an easy way to achieve balance is to repeat a part three times. I like to think of it as the rule of odd numbers. Human brains are pattern-recognition machines, and the most basic pattern there is an odd number. In this kitchen there are three pendants over the island and a fourth coordinating pendant over the sink. This room's balanced because the three pendants over the island are on a single plane, and the one pendant over the sink is on another plane all together.
4. 1 Light Designer Pendant in Black

($36)

·

More Info
5. White Finished Single Light Modern Pendant Lighting

($46.5)

·

More Info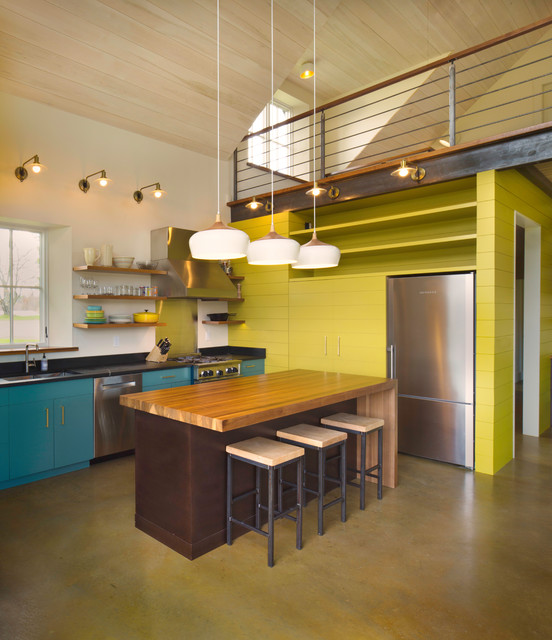 6. Industrial Style 1 Light Pendant in Black Finish

($35.7)

·

More Info